As a personal trainer, finding high-paying personal training jobs can be a game-changer. If you think about it, a high salary not only means a better quality of life but also allows you to focus on work you actually enjoy.
In this article, we'll explore some of the top high-paying personal training positions, including personal training director, personal training manager, and corporate fitness trainer. We'll talk about the job responsibilities, required qualifications, typical salary range, and how to land these positions. We'll also cover other high-paying personal training positions you can explore, like an elite personal trainer, virtual personal trainer, and celebrity personal trainer.
So if you're just starting your career or looking to take things to the next level, this article will give you a roadmap for finding a rewarding and lucrative career in personal training.
This Article in a Nutshell
Four of the best-paying personal training positions are personal training manager, personal training director, fitness consultant, and corporate fitness trainer.
You'll need a bachelor's degree, a master's degree, and several years of experience to qualify for any of these
You'll have to choose between the flexibility of freelancing and the income stability of a full-time job when applying for these roles.
Top 4 High-Paying PT Jobs
Let's start with some of the highest-paying personal trainer jobs you could ever get. These usually require a few years of experience to land, but they can be extremely rewarding.
Personal Training Manager
A personal training manager oversees a team of personal trainers and is responsible for managing the day-to-day operations of a gym or fitness center. They are responsible for hiring and training new personal trainers, ensuring they meet their clients' needs, and overseeing the gym's personal training program.
According to Salary.com, A personal training manager will usually earn between $40,000 to $52,000 per year. This position is great for personal trainers who enjoy leadership and want to take their career to the next level.
Personal Training Director
A personal training director is a high-level management position responsible for overseeing a gym or fitness center's entire personal training program. As a personal training director, you'll work closely with the gym's management team to develop and implement personal training strategies, set goals and targets, and create marketing campaigns to attract new clients.
PT directors are also responsible for managing a team of personal trainers and ensuring that the gym is providing high-quality personal training services. The typical salary range for a personal training director, according to Glassdoor, is about $77,000 per year. This position is great for you if you enjoy leadership, strategy, and business development.
Fitness Consultant
A fitness consultant is a personal trainer who works independently or for a consulting firm and provides expert advice and recommendations to individuals, corporations, and other organizations.
You can think of a fitness consultant as someone who has all the freedom of a freelancer but the income of a fully employed PT.
They help their clients develop fitness plans, set goals, and make lifestyle changes to achieve their desired outcomes. You can expect to earn between $56,000 and $96,000 as a fitness consultant (Glassdoor), and the position is great for you if you enjoy consulting and working with a wide range of clients.
Corporate Fitness Trainer
A corporate fitness trainer is responsible for providing fitness training and wellness services to employees of a corporation or business. They work closely with human resources and other management teams to design and implement wellness programs that improve employees' health, productivity, and overall well-being.
As a corporate fitness trainer, you'll need to navigate the corporate world, interface with different executives, and do a lot of non-PT work. The typical average annual salary for this position is about $100,000 (ZipRecruiter)
If you're looking to position yourself and earn more as a PT, these jobs are your best bet.
In the next section, we'll go into how you can land some of these jobs, including the qualification requirements, experience, and everything else. Since this won't be your first personal training job, you'll have lots of time to prepare and gather the necessary qualifications.
Requirements and Qualifications for High Paying Personal Training Jobs
Many of the educational requirements are similar across all these personal training roles. Some may also require unique leadership training and experience, depending on the organization. But this list is a great place to start when thinking about how to land high-paying personal training jobs.
Bachelor's degree in exercise science, kinesiology, or a related field.
A Master's degree in a related field can also be an advantage.
You should have several years of experience working as a personal trainer or fitness instructor,
Experience in management or leadership roles.
Excellent communication and interpersonal skills and the ability to work collaboratively with other team members.
Job Search Tips for Personal Training Jobs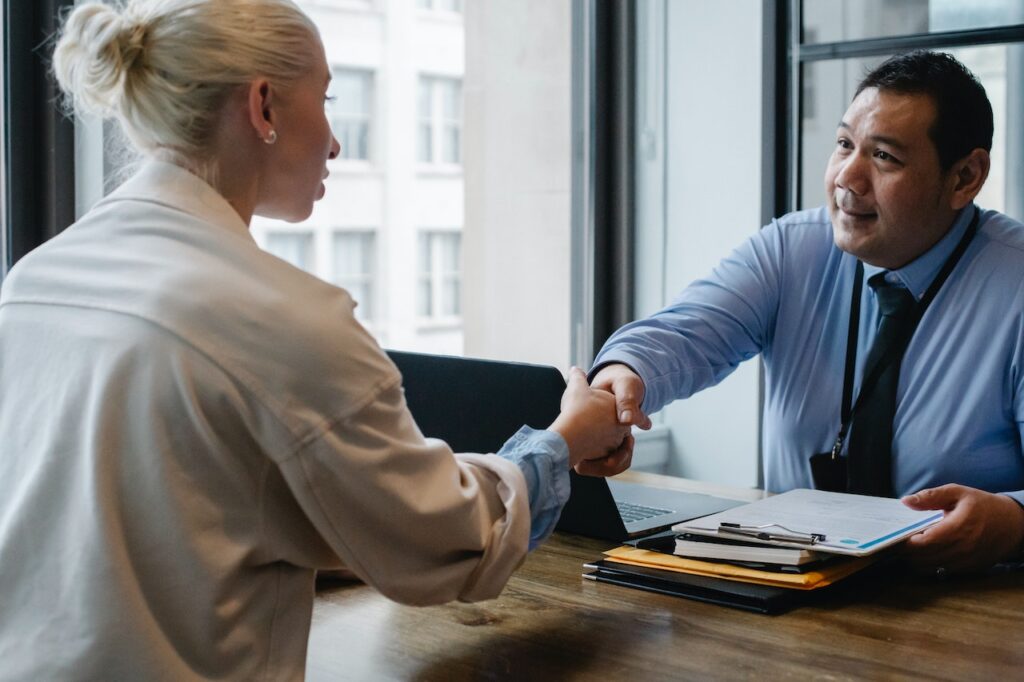 Landing any of these jobs requires sort of the same job search tips – kinda what you'd do if you were hunting for a gym manager job.
Gain Experience
This is where it all begins, whether you're trying to scale a personal training and nutrition coaching career or training elderly clients. Experience can be gained by working as a personal trainer or fitness instructor.
You can then seek out management positions within your organization. You can also work to develop your leadership and communication skills and stay up-to-date on industry trends and best practices while in these roles.
Network
It often helps to think of networking as one of your personal training side hustles. Attend industry conferences and events, join professional organizations, and network with other professionals in your field.
You should also consider connecting with recruiters and staffing agencies that specialize in the fitness industry, and be sure to have a strong online presence that showcases your skills, experience, and education.
Highlight Your Experience
As we've already covered, employers are looking for personal trainers who have the credentials and experience to help clients achieve their fitness goals. When you apply for jobs, make sure your resume and cover letter emphasize your education, certifications, and experience in the industry.
You may want to consider getting certified by a respected organization such as the American Council on Exercise (ACE) or the National Academy of Sports Medicine (NASM). For more details, check out our personal training certification guide.
Show Your Passion and Personality
Unless you're applying for a strictly management position, you'll find that most of your job is client-facing, which means you'll interact with people a lot. Employers want to hire trainers who are personable, empathetic, and enthusiastic about fitness.
During interviews, be sure to showcase your personality and demonstrate your passion for helping people achieve their fitness goals. You should also consider developing a personal training online brand that showcases your unique skills and personality, such as a fitness blog or social media presence.
Learn and Adapt
The fitness industry is constantly evolving, and employers want trainers who are willing to learn and adapt to new trends and techniques.
Show that you are committed to ongoing professional development by attending workshops, seminars, and continuing education courses. Additionally, be open to feedback and willing to adjust your approach to meet the needs of different clients.
Pros of High Paying Personal Training Jobs
Steady Income
One of the biggest advantages of taking a job as a personal trainer is the stability of a steady income. With a job, you'll typically receive a regular paycheck and benefits such as health insurance, which can provide financial security and peace of mind.
That means you'll no longer have to worry about attracting personal training clients or develop a plan for when clients don't get back to you. You may not even need to be concerned about your YouTube fitness channel unless you're really passionate about it.
Professional Development Opportunities
Many gyms and fitness centers offer professional development opportunities such as continuing education courses, workshops, and seminars. This can help you improve your skills as a personal trainer, stay up-to-date on the latest fitness trends, and enhance your credentials.
That means you could gain the qualifications to land even higher paying jobs. Or better yet, start your own gym business and become your own boss.
Freedom From the Minutia
All personal trainers have pet peeves about their jobs. You may hate having to train clients early in the morning or fiddling with your scheduling software to find a time that works for everyone. Once you land a high paying personal training job, all that will be in your rearview.
Cons of High Paying Personal Training Jobs
Limited Autonomy
Regardless of how much you're making in your job, you'll be working for an employer. And working for an employer means you will likely have less control over your schedule, client base, and training methods. You may have to follow specific protocols and adhere to the gym's policies, which can be limiting.
Restricted Earning Potential
While a high-paying personal training job may offer a stable income, there may be a ceiling on how much you can earn.
Compare that to freelancers who can basically ramp up their fitness email marketing campaigns, approach more clients, raise their rates, and increase how much they earn.
Less Flexibility
When you work for an employer, you may be required to work specific hours or days, which can limit your flexibility. If you enjoy the flexibility of freelancing, you may need to think twice about this point before applying for a personal training job.
Conclusion
Personal training is a rewarding career that offers a wide range of opportunities for growth and advancement. However, as with any profession, it's important to choose the right path in order to achieve the most success.
In this article, we've discussed some of the top high-paying personal trainer jobs, including Personal Training Director, Personal Training Manager, Fitness Consultant, and Corporate Fitness Trainer. No matter which path you choose; even if you decide to stay a freelancer, it's important to continue to develop your skills, stay up-to-date with industry trends, and network with other professionals in your field.
By doing so, you can build a successful and rewarding career in the personal training industry.