If you have a passion for ski or snowboarding, you might have considered the option to become a ski instructor. Think of it as becoming a personal trainer for a really fun sport… But while working for a ski school can be fun, it might not be for everybody. 
In European mountain resorts, it's relatively easy to set up as an independent ski school or freelance ski or snowboard instructor. And while there are things you need to put in order first (your own certifications, insurance and such), there are several benefits to being an independent ski instructor.
If you're weighing it up as a job this season, here is why it might be a great option.
1. Better Flexibility
Of course, the first and most striking benefit of being a freelance ski instructor is the allure of flexibility.
Working independently means that you have control over your schedule, allowing you to flex your work around your lifestyle, rather than the other way round. The freedom to choose which days you work and at what times signifies more than just convenience. It critically allows you to maximize your earning potential during peak times and days, or more importantly, take powder days off…
2. Opportunity to Earn More
Speaking of earning potential, the opportunity to earn more is a distinct advantage for the independent ski instructor. In most ski schools, the revenue is shared among the school, the instructors, and other staff.
Working independently, on the other hand, means you get to keep the lion's share of income generated. Furthermore, you have the liberty to set your own competitive rates, allowing for increased earning potential based on your level of expertise and local demand.
3. Build Your Own Brand and Business
The opportunity to build your own brand and business is of course a great reason to go independent. You can be distinguishable by your unique teaching methods and personality, and even take your students to less obvious learning spots.
As a freelance ski instructor, you can cultivate a distinct brand identity that fosters customer loyalty and attraction, promoting longevity in a typically seasonal occupation. As you establish rapport and a solid reputation, this personal brand becomes an asset as powerful as any certification or award.
4. Follow the Winter Season Around the World
Arguably one of the most appealing aspects of becoming an independent ski instructor is the possibility to literally follow the winter season around the globe.With your passion for snow sports, this profession is no longer confined to local hills and resorts.
By operating independently, a ski or snowboard instructor can migrate with the winter, coaching in the northern hemisphere during its snowfalls, then moving south when the season changes.
Looking for a reason to head to Queenstown? Or maybe try your hand at tuition in Bariloche? This could be your chance!
5. Better Connections with Clients
Fostering relationships with clients can be more genuine and stronger when you are an independent ski instructor.
Unlike in a ski school scenario where the connection can be impersonal and fleeting, you can establish a real rapport with your clients, allowing for a more effective teaching environment.
This personal experience not only enhances your teaching experience but is also likely to elicit return clients and treasured word-of-mouth recommendations. Oh and you can take them out for some apres ski too!
6. Offer Your Own Style of Tuition
In being an independent ski instructor, appeal also lie in the capacity to tailor your teaching methods. Instead of adhering to a generalised curriculum, you can personalise lessons to suit individual needs, making the sessions more enjoyable and productive.
This unique 'freelance' charm gives you an edge, attracting clients who are looking for a personalised approach to learning.
Training, Permissions and Client Acquisition
Armed with reasons to delve into a career as a freelance ski instructor, you do also need to understand the prerequisites and realities of this path.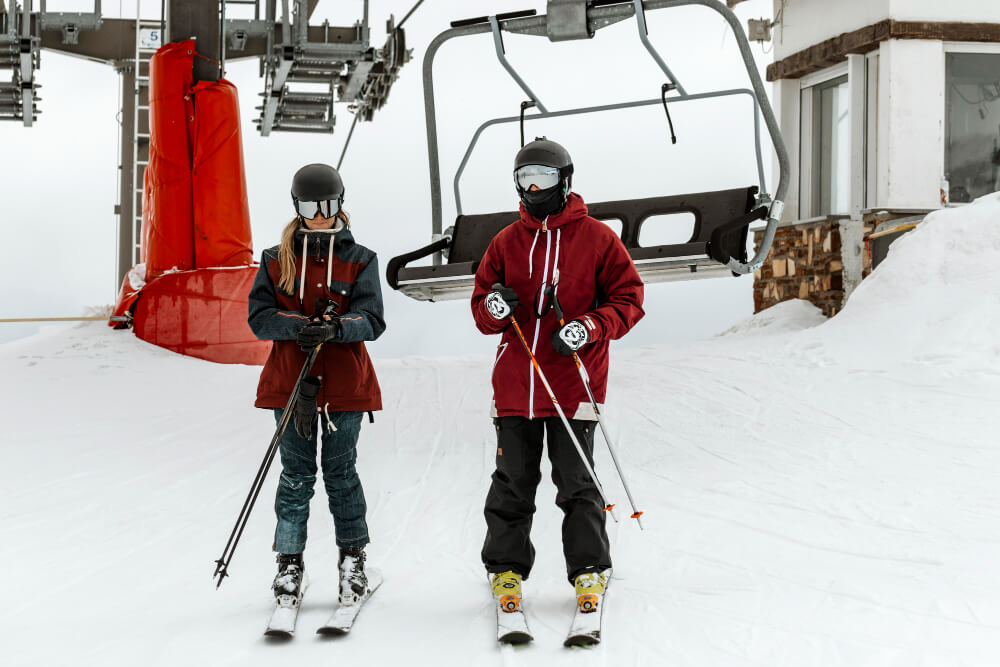 Do You Need Training to be an Independent Ski Instructor?
To become an independent ski or snowboard instructor, you need formal training. This ensures you have foundational skills, knowledge about safety, and professional liability insurance.
These are typically obtained through certifications, which vary based on geographical location. In Europe, there are several options, with ski and snowboard courses taking anything from five days to 12 weeks or more.
How Can You Get Permission From a Resort to Become an Independent Ski Instructor?
Although being an independent ski instructor grants you freedom, there are some regulations to comply with.
Ski resorts often require you to have formal permission to teach on their slopes. This varies from resort to resort, and it's essential to understand the specific requirements and procedures of your target location.
In Europe, you can easily set up as an independent ski school at most ski resorts. Get in touch with the resort you want to work with to find out how and what you need to stay legal.
How Can You Start Teaching and Getting Clients?
Once you've obtained the necessary certifications and permissions, client acquisition will be the primary task at hand. 
It will also depend on the ski resort you choose to offer your services. For example, at a premium ski resort like Verbier in Switzerland, you could offer high level one to one classes. While in a more budget resort such as Bansko in Bulgaria or a smaller French resort, you might want to focus on coaching budget beginners.
In fact you should almost always start by offering beginner classes, as entry-level ski students are often abundant. As your reputation as an excellent freelance ski instructor builds, word-of-mouth, social media, and online platforms will become crucial tools for expanding your client base.
Make sure to track your clients, your class schedules and your finances with a professional business management tool such as Arbox, which is made for fitness and sports professionals.
Opting for a career as an independent ski instructor may initially seem steep, but as we've seen, the benefits are abundant and thrilling. Remember, every peak is reachable if one just keeps climbing.
Channel your passion towards professional training and certification, respect the rules of your chosen resorts, and carve your own path as a freelance ski or snowboard instructor.
With the right mix of skills, marketing, and a touch of persistence, you'll soon find yourself living the dream of chasing winter around the globe.