Are you tired of struggling to generate and convert personal training leads? You're not alone. In fact, many personal trainers struggle with this aspect of their business, despite the growing demand for fitness and health experts.
But here's the thing: lead generation and conversion doesn't have to be as difficult as it seems. In this blog post, we're going to reveal some unpopular facts about PT leads and show you how to turn things around for your business. Get ready to take notes, because by the end of this post, you'll have the tools and knowledge you need to attract potential clients and retain the leads you deserve.
You'll learn everything from identifying high quality leads to nurturing tactics, and even ways to passively generate leads. Ready? Let's dive in!
Identifying high quality personal trainer leads
If you're running a personal training business, it's important to know what makes a good lead so you don't waste your time chasing down duds or clients that will flake after one session.
Even though it's not foolproof, here are some signs that your leads are high quality ones. If the potential clients you're talking with don't have any of these qualities, your time may be better spent elsewhere.
1. They're already fit, but not necessarily in shape
Ideally, you want someone who's been working out for a while – around 3 months. They are familiar with exercise and the dedication and commitment it requires. They don't have to be in shape, but it should be clear that they are passionate about chasing their goals.
This is important because someone who's been exercising for a while is much more likely to keep at it, compared to someone who bought their first gym subscription yesterday.
It's probably obvious that you want someone serious because it potentially means they'll renew their training package several times before ending the contract.
2. They have a regular workout schedule, but they don't follow it exactly every day
This is one of the biggest reasons people hire a personal trainer; they know they should work out but need help staying on track. Clients like these are ideal because they've already started on their journey. You won't need to go into many of the processes you normally would when training a new client.
Be sure to focus on people like these during your lead generation.
3. They aren't afraid of hard work
As a PT, you know that working out out can be inconvenient, and sometimes, downright difficult. You'll sweat, your muscles might ache, and you may even feel your heart jump. But it's all part of the process, and handled properly, can all contribute to good gains.
It helps to work with clients who already understand some of these experiences because it means you have less work to do. It also means that they're more likely to follow through and contribute to your positive track record.
4. They're willing to try new things
I don't know about you but one of the joys of personal training for me is helping clients find new limits; showing them how to safely push and challenge themselves.
All that would be so much easier if you didn't have to constantly convince your client to try something new. Sometimes, you can't avoid that. But if you do find clients who are committed to taking a plunge, chase them. Those are the best kinds of leads.
5. They've worked with a trainer before
This one's a bit of a double edged sword. On the one hand, clients who have had previous trainers already know what it's like to receive instructions from PTs. But you also need to find out why they left the previous trainer so that you can avoid disagreements, hiccups, and even liability.
Generating leads online
Thousands of personal trainers have taken their fitness business online. They do lead generation to training fully online and you're about to learn how to do the same.
A strong online presence
A strong online presence can help establish you as an authority in your field, which will always draw passive leads to you. Here are some simple tips on how to do that.
1. Get your website up and running as soon as possible: This is where people will find out who you are and what your services are, so it's important to get this right from the start!
2. Add some social media accounts: Facebook, Twitter, Instagram. Add these to your page so that people can connect with you on a more personal level.
3. Connect with other personal trainers in your field: It's always nice when there are multiple voices from similar backgrounds sharing advice and knowledge.
4. Start a blog and write about your experiences as a personal trainer: This can be an excellent way to stay connected with people who are interested in this field—and it may even help you find new clients!
Check out our blog on how to build your personal trainer brand online for more tips.
Content marketing campaigns
Content marketing is one of the best ways to get leads for your personal training business. If you've already created a strong online presence, it'll make your content marketing campaign so much easier.
There are a few different ways you can go about this, but here's a 3-step approach that often works.
Step 1
Create blog posts and social media content that is directly related to your target audience and then promote it through paid ads. You can also create highly-curated lists of resources for people who want to lose weight, gain muscle, or get in shape in general.
Step 2
Create an eBook or webinar that dives deeply into the subject matter, but make sure to include a call-to-action at the end so that it's easy for people to contact you if they want more information.
Step 3
Once you've created your content, send it out as an email newsletter or post it on social media channels like Facebook and Instagram. You may even be able to sell access to your eBook or webinar if enough people are interested in learning more!
The iPT has a fantastic article on content marketing for personal trainers, if you want to learn more.
PPC Ads
PPC ads for personal trainers can help you get the word out about your services and increase your revenue. Here's how:
1. Use keywords that are relevant to your business: As a personal trainer, you should use words that describe what they do or sell (e.g., "training", "fitness", "fit", etc.). Because these are the phrases people will search when seeking you out, you'll double your lead generation results.
2. Create a compelling ad copy: You want people to click on your ad, so make it compelling! Make sure it has all of the information needed for people who are interested in your services but might not know much about them yet (e.g., photos of people working out, testimonials from past clients, and so on).
3. Set an appropriate bid amount: Too low will mean no one sees it and too high will mean no one pays attention to it either! Find the right amount that works with Google's algorithm based on volume.
4. Choose the right target audience: This is a very important part of your ad campaign, because if people don't see themselves as part of your target audience they won't click on it!
5. Test, test and then test some more: You want to make sure that everything you've done so far is working correctly before spending money on ads (which can get expensive!). So keep testing different versions of your ad until you find one that works for you.
Here's a more detailed article on PPC Ads from Hubspot.
Generating leads in person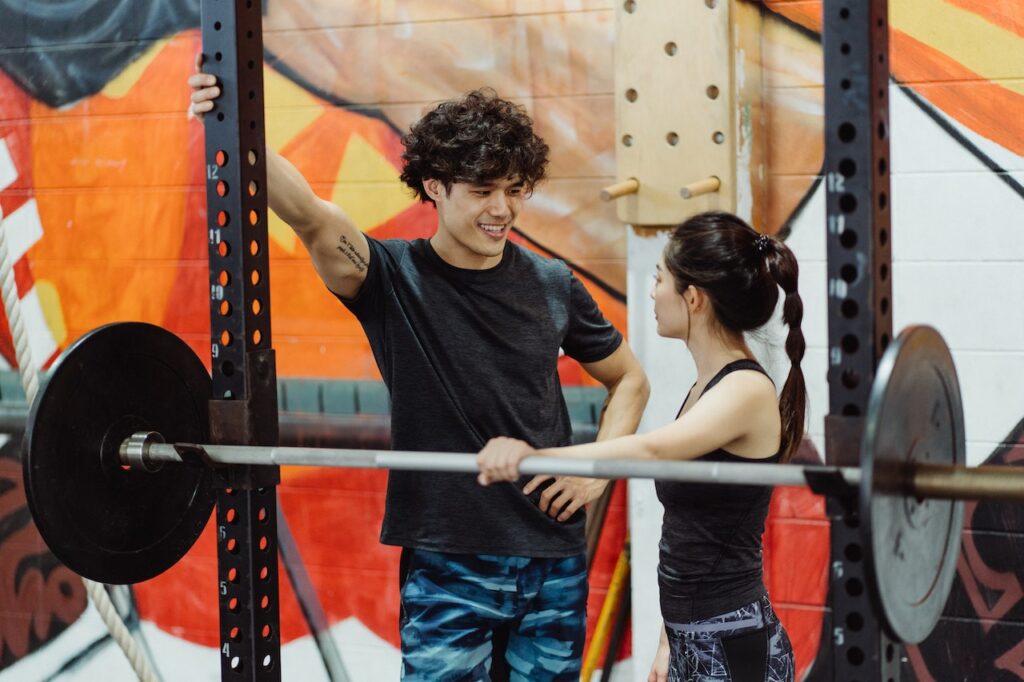 Many personal trainers start out by generating leads in person. You connect with clients on the gym floor, show them what you have to offer, and they hire you. In this section, we'll discuss some tips on lead generation for personal training services.
Improve perception about you
Perception is everything. If you want to run a successful fitness business, you'll need to learn how to help people see who you are and what you have to offer.
Ideally, you want your prospective client to look at you and immediately see you as someone who can help them achieve their goals.
So how do you improve your perception of yourself? Here are some tips.
1. An impeccable work ethic: Make sure your work ethic is up to par with the rest of your colleagues in the fitness industry. If people think that it might be hard for you to stick with them or guide them effectively, then they'll find another trainer!
2. Qualify your leads: This is one aspect people rarely talk about: what happens while you generate personal training leads? You see, it's critical to choose clients who are in good shape and will stick with the program for at least six weeks (which will give them time to make any necessary adjustments).
This way, when they start seeing results, they'll continue following through with the program because they'll know that it works! You don't want clients who will quit halfway through because it reflects poorly on you.
3. Share sufficient information: While you're generating leads, be sure that you've given people enough opportunities to find you. Dial in your website and social media and make sure they represent you in the best possible light.
For more tips, check out our blog on how to land clients on the gym floor.
Master how to close
Striking a conversation with interested parties is one thing, but getting them to commit is another thing entirely. There are many ways to close during personal training lead generation – asking them when they can start, talking about their schedule, or just asking "so how will you be paying for the session?"
But, one size doesn't fit all in the fitness business. If your current approach isn't working, try something different! If the people you talk to are hesitant, instead of trying to drive home your point, consider asking them why they are so reluctant.
When trying to close a personal training lead, it also helps to be specific When you're talking to someone about their fitness goals, make sure that you're clear about what exactly they want help with.
Are they looking for weight loss? Are they interested in taking up yoga? Make sure your approach is targeted towards their needs so that they know exactly what they're getting themselves into when they sign up with you!
Finally, don't forget to toot your own horn in a gentle and respectable manner. Talk about your past clients who had similar goals and starting points so they know you're equipped to help them.
Get involved in the community
Regardless of where you are, you can easily find community events to join. From outdoor races to health expos, getting involved in community efforts is a great way to get yourself known and encourage referrals down the road.
You can either volunteer at these events or sponsor them. Doing so allows you to advertise your service to prospective clients and show them that you're a competent personal trainer.
Collate your testimonials
As mentioned before, it always helps to have some stories on hand about clients you've helped. People will love to associate with their success and hearing about other successful clients will help them believe they can be successful with you.
You may even keep some before and after pictures on your phone to drive home your point while chatting up a lead.
The key here is to be as genuine and respectful as possible. If someone doesn't want to hear an offer, shoving your clients' pictures in their faces will only drive them away.
You also want to use true stories because all it takes is one person to call you a liar and your reputation could be ruined.
How to passively generate leads for your personal training business
You can only talk to so many people about your personal training business without burning yourself out. But one approach that will yield dividends even in your absence is getting people to do the lead generation for you. Here are some tips on how to make that happen.
Encourage referrals
There are a few ways to encourage referrals as a personal trainer. First, you can make sure that you're comfortable with your clients and that they're comfortable with you. This means making sure that you're clear on the goals of your workouts and the level of intensity you'll be working at.
Once clients are happy to work with you, they'll be more open to telling others about you. It's pretty straightforward.
It's also a good idea to take the focus off your salesmanship when talking about referrals; instead, try talking about why you love working with people and how helping them achieve their goals brings you satisfaction.
Offer high-value freebies
Some high value freebies you can offer include free online group classes and in person consultations.
These are important because they allow people to see what you offer upfront without any financial commitment; these make it easier for them to say yes.
Network
You can choose to build strategic relationships with businesses that can refer personal training clients to you. Some of these include small gyms – especially those without personal trainers – yoga instructors, performance coaches, HIIT instructors, and other similar fitness professionals.
You'll be surprised at how often people who need a personal trainer sign up to a yoga studio because they aren't clear on what they need. These relationships will ensure that your collaborators send referrals your way, even when you aren't aware!
Curate packages that encourage retention
Instead of creating packages based on time limits (like clients paying per month), get creative and create goal-oriented packages. Tie the client's goal to their payment so that they are less motivated to cancel until they accomplish the goal.
So you might name your packages Fat Loss for Women or Active Dads. As long as dads desire to stay active, they'll be more inclined to work with you.
How to convert personal training leads to clients
To convert leads for your personal training business, you'll need to reduce the risk of signing up with you, and make it as easy as possible to say yes. This may be offering a free trial, using curated social proof, or remaining persistent.
Here are five ways to convert your leads to clients.
1. Personalize the follow-up process
Rather than sending a generic follow-up message, take the time to personalize each message and address the specific needs and interests of each potential client. So if you're sending an SMS, including the goals you talked about will show that you value and care about them.
2. Leverage social proof
Use testimonials and case studies from current or past clients to show potential clients the results that can be achieved through your training. This can help to build trust and credibility, making it more likely that a lead will convert into a client.
3. Offer a risk-free trial
Offering a risk-free trial, such as a complimentary session or a money-back guarantee, can help to alleviate any concerns a lead may have about working with you and increase the chances of them becoming a client.
This may be a group training program where you can handle multiple prospective clients at once to mange your time. It may also be group fitness classes with existing clients so that things are a little easier for you to manage.
4. Address objections
Anticipate and address any objections or concerns you might encounter during your lead generation marketing process. This can help to build trust and overcome any barriers that may be preventing them from becoming a client.
Here are some of the objections clients may have to personal training
Cost: Many people may feel that personal training is too expensive and that they cannot afford it.
Time: Some people may feel that they do not have enough time to commit to regular personal training sessions.
Lack of knowledge: Some people may not know much about personal training and may not be sure if it is the right fit for them.
Self-consciousness: Some people may feel self-conscious about working out in front of a trainer or others and may be hesitant to hire a personal trainer.
Lack of results: Some people may have had negative experiences with personal trainers in the past and may be hesitant to hire a trainer again due to lack of results.
Preparing answers for these common objections will allow you to convert more high quality personal training leads.
5. Be persistent but not pushy
Follow up with leads regularly, but do not be pushy. Use a soft-selling approach, be friendly and supportive and keep the leads informed about your services, so they feel comfortable reaching out to you when they are ready to convert.
The bottom line
Personal training leads can become the lifeblood of your fitness business. We've talked about everything you need to know about lead generation, from identifying quality leads and generating them online and offline to closing them.
Mastering this process can become instrumental for you, and ensure that you go from a struggling PT to the owner of a thriving personal training business.