Opening a pilates studio business is the next natural step for any experienced instructor with an entrepreneurial bone in their body. It gives them the opportunity to bring an unusual method of exercise to those who stand to benefit from it the most.
Pilates exercises offer a host of benefits that include but are not limited to advanced core strength, improved flexibility, and strength gain without an increase in size. It also helps reduce stress and improve mental health.
It's no wonder the exercise movement is so attractive. If you have the means and ambition, it's a fantastic idea to start your own pilates studio.
In this post, we'll be walking you through the many steps to turn your dreams into a thriving Pilates studio business.
---
This article, in a Nutshell
Opening a pilates studio is a long and complicated process, but it can be easier if you have a full-proof business plan that details accounts for every aspect of creating a thriving fitness business.
Marketing and personal branding are the backbones of your business in the beginning, and you should take your social media marketing effort and physical very seriously
Take your time to hire pilates instructors and draft up private sessions, class packs, and other integral services, as they will pay dividends as our business grows.
---
Defining your Goals and Vision for your Pilates Studio
Establishing your brand identity, vision, and goals is the first step in establishing a fitness business.
Your brand is the feelings and impressions everyday people have about your brand, and it can make or break your business. It's important to set goals and standards and establish values that set you apart from other pilates studios.
Take three simple processes to establish your brand identity:
Choose a niche: What type of people do you prefer to work with)
Research and understand your target market: Research lets you discover more about your prospective customers, making approaching marketing and positioning so much simpler.
Position your brand: Established brands use social media and ads to establish their brands goals, philosophies, and positions, which typically boil down to a core message. It could be a fascinating yet practical message that draws attention and gets people talking. Or it could be something uplifting that props up a group.
Creating a Business Plan for Your Pilates Studio
A good business plan is your plan of action on paper.
It should cover everything from your goals and mission statement to your marketing plan, break-even analysis, competition research, operating costs and budget, and financial performance projections.
A well-put-together business plan makes it easier to attract investors or lenders, and a playbook to reference when you're setting up your pilates business. (Constant contact has a great pilates business plan guide you can follow.)
Choosing a Location and Designing Your Space
Finding the right location for your new pilates practice involves balancing accessibility, cost, and competition.
Ideally, you want to set up your new pilates studio in a location that's easily accessible by your target market yet cheap enough for you to afford and a fair distance away from the nearest competition.
You'll also need extra space if you're thinking of using Pilates equipment like Pilates reformers in your own space or new fitness studio. If you're only using mats to teach, any reasonably sized location will do. Easy parking access is also a must.
One simple trick to make your search a little bit easier is renting a part-time studio. While you're technically one of the many pilates studio owners in your town or city, you're set up to teach pilates classes.
Equipment and Supplies Needed for a Pilates studio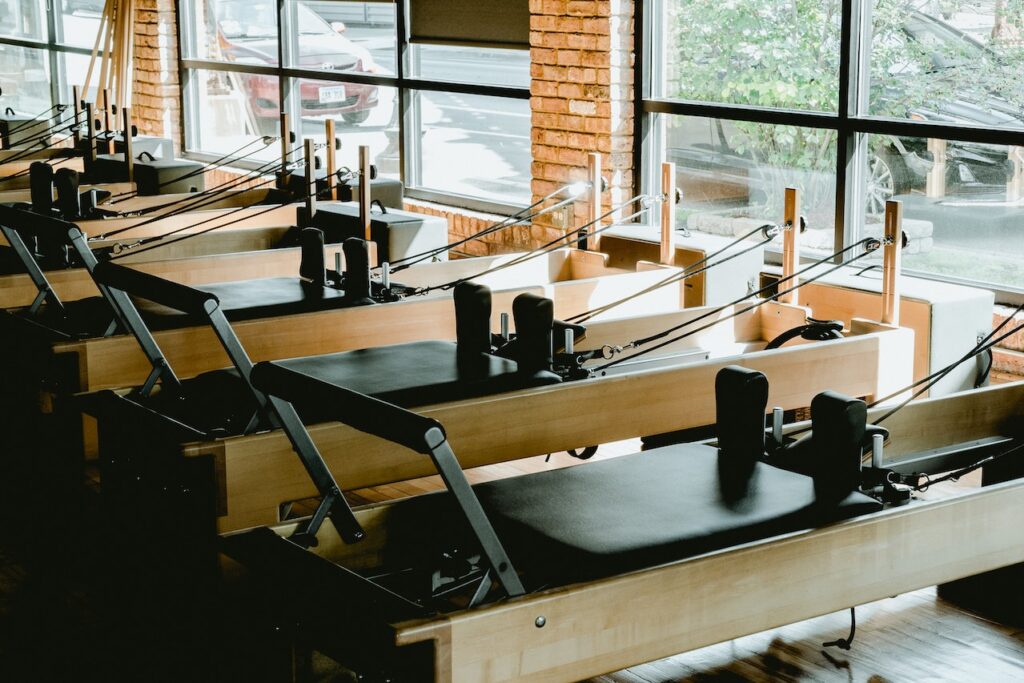 The Pilates equipment and supplies you need for your studio depend on your budget, customer base, and your brand identity.
If you're a small to medium-sized business targeting middle-class moms, you can start with as little as a Pilates Mat, Foam Rollers, Resistance bands, Pilates balls, and some speakers.
For entrepreneurs looking to start a pilates studio for high-income earners, they might also need:
Pilates Chairs
These are used for standing and sitting exercises and promote great posture and coordination
Pilates Reformers
They are a versatile type of exercise equipment that uses springs, platforms, ropes, and pulleys to generate resistance while performing a wide range of exercises. They help improve strength, flexibility, and coordination while also reducing the risk of injury
Pilates Cadillac
Also known as a trapeze table, Pilates Cadillacs are an advanced piece of studio equipment that consists of a horizontal bar, that can be raised or lowered with springs and pulleys. Depending on its configuration, it can be used to perform a variety of exercises that let you target specific muscle groups, train your flexibility and mobility.
Pilates Arcs
These are small curved pieces of equipment used for stretching and building the core.
Studio Management Software
They oversee and simplify the day-to-day administrative tasks of running your own pilates business. For example, keeping detailed accounts, scheduling classes and instructional videos, as well as keeping files on new clients.
Hiring Instructors and Staffing your own Studio
Hiring new staff can be a stressful experience, especially when you're doing it for your own business. Bad behaviour from your staff will cost you business and can strangle your business in its crib before it ever gets a chance to stand as its own pilates studio.
Here are a few tips to help you make sure you hire the best staff for your studio.
Pilates Certification
Start your search with professional pilates instructors with a pilates certification or multiple ones. They could've been certified by the Pilates Methodd Alliance (PMA) or the International Association for Pilates Method Professionals (IAPMP). The certificate is proof that they've undergone rigorous training and are qualified to teach your clients.
Look for instructors with at least two-three years of experience teaching. Real-life experience on top of the certification makes instructors more knowledgeable and accustomed to wiring with different types of clients.
Do they specialize in your studio's niche? Your ideal candidate should have experience teaching pilates to your client base. For example, Prenatal pilates for pregnant women and rehabilitation for people recovering.
Check Their Recommendations
Consult former employers, and review websites and their former students before you even think about shortlisting a potential candidate. This applies to instructors as well as other employees.
Sit in on Their Classes
Don't hire pilates instructors without seeing them in action first. Despite what their resume says, it's important to see your prospective instructors teach so that you can assess their teaching style, demeanour, general attitude, and how they react to confrontation.
Sit Down and Interview
Sit down and interview all of the employees and instructors that have made it through your lengthy selection process and choose the ones that best align with your business goals, values and overall personality.
Marketing and Advertising Your Pilates Studio
Once you have the location, staff, and instructors squared away, you have to focus on attracting your ideal client to your new pilates studio.
In the age of social media, marketing and advertising is often more complicated than printing physical fliers and offering free classes.
Here's how you develop an effective marketing strategy that'll get people genuinely interested in your Pilates studio.
Online Presence
Get a business website and Logo that reflect your brand value, philosophy, and goals. The site should contain information about your class packs, instructors, pricing, contact information, and private classes and lesson plans. Adding some blogs that teach them about Pilates is not a bad idea either.
Focus on Social Media
Start social media accounts on all of the relevant sites like Facebook, Instagram, Tiktok, and Twitter and post videos, graphics, and written content about your new business. Share clips of classes and testimonials, and offer promotions, free classes, and discounts. Be sure to reply to all messages and comments.
Offer Promotions and Referral Incentives
Offer referral discounts, bonus pilates classes and special benefits to new clients who refer their friends and family to your home pilates studio or business. It drums up lot of goodwill, and it's a good way to outcompete other local businesses.
Attend Events and Network
Attend local events and engage the local yoga industry to find potential clients, business partners, or other small businesses or business owners who've been operating in the location before you. They generally give out great advice.
Cross-Promote with Another Fitness Business
Consider collaborating with Yoga studios, gyms, fitness studios, spas, and health clinics to cross-promote each other services so that you can thrive collectively.
Advertise Locally
While it's true that everyone is online now, physical advertisement still works. Rent benches, print out fliers and approach people on the street with the intention of inviting them to your studio.
Track your Results
Make sure to keep track of your marketing and advertising effort through every step of the process and measure your success. It's the only way you'll know what works and what doesn't.
Hire a Marketing Expert (optional)
If you have the budget, hire an expert before you start marketing. They're usually worth the money. They can teach you how to set realistic marketing goals, teach you how to run email marketing, as well as show you how to cultivate a great web presence and leverage your offerings (private lessons, etc.)
As your business grows, you'll have to learn to cultivate good customer service practices, as well as how to maintain your clientele. You might also need to learn how to manage the day-to-day finances of your pilates studio.
Frequently Asked Questions
How Much Does a Pilates Studio Owner Make?
On average, pilates studio owners make $45,000 a year. However, there are franchises, upscale studios, and studios that rake in multiple six figures-yearly in the pilates world.
Some businesses even make over $1 million dollars. With enough resources, time and support, even small business owners can go on to forge their own pilates empire because of how the business is set up. Pilates studios have a large profit margin, sometimes reaching up to 30%. It would only take careful management and good business practices to expand comparatively quickly.
How Much Does it Cost to Open a Pilates Studio?
The initial start-up costs for a pilates studio can range anywhere from $5000 to $100,000 depending on the size of the studio, pilates equipment, marketing, and instructors.
Once you've covered the main costs like remodelling, location costs, website development and registered as a legal business entity, the rest of the costs are mostly discretionary. You spend as much as you think is necessary based on your business plan.
Smaller studios might forego most equipment except for mats and can survive on one or two instructors. A business website can be a simple web page leading to an email, and you can make a lot of headway marketing for free.
In most cases, the budget stretches out to accommodate your scope as owner.
Creating a Pilates Studio Business Plan?
If you've read through the article, you should have an idea of how to write a pilates studio business plan. However, if you need further instruction, we recommend searching for mock-up business plans on the internet. They don't even have to be for pilates studio particularly. A Yoga studio business plan could do too.
The same basic principles apply, and they should give you the basics of the general structure of a business plan written for investors in the fitness industry.
Final Thoughts
Starting a pilates studio is one of the most challenging and rewarding undertaking any Pilates instructor or entrepreneur can undertake. While setting up and managing the day-to-day of your studio requires a large time and money investment, the potential benefits make the risk worth it.