Lead generation for gyms is essential in running a successful gym business, as the fitness industry isn't just highly competitive but also highly saturated. With many gyms doing all they can to attract more clients and build their membership base, you can't afford a mediocre approach to attracting clients.
Lead generation is essential for gyms because it allows you, as a gym owner, to increase your engagement and boost sales. By providing prospects with relevant and valuable information, gyms can capture their attention and build a relationship that will eventually lead to a sale.
If you want to get started on generating leads for your gym business, then keep on reading. In this blog post, we'll explore different examples of lead generation ideas for gyms and how to choose the best social media platform for your gym. Also, we provide tips on creating website landing pages and a lot more.
---
This Article in a Nutshell
Lead generation involves attracting and nurturing prospects until they become paying customers
Identifying your target audience, optimizing your website for search engine and utilizing social media are some of the ways to generate leads for your gym
Attracting leads to your gym can boost your gym's revenue and build brand awareness
---
What Exactly is Lead Generation for Gyms
Lead generation, an essential element of digital marketing, is identifying and nurturing potential leads and turning them into customers. In other words, it involves attracting and converting prospects into clients.
Lead generation includes marketing campaigns, email list building, content creation, and social media engagement capable of attracting and prompting potential customers to take action.
An essential part of building and maintaining an effective sales funnel, lead generation can help gyms increase awareness of their services. Also, with the right strategies in place, lead generation can be a powerful tool for growing a gym's membership base.
Interestingly, your gym's value can greatly determine how much lead gen you can do, and how much revenue you can generate. Here's a guide on how to value your gym business properly.
Identifying Your Target Audience
Regarding lead generation for gyms, the key to success is identifying your ideal customer. Your ideal customer will depend on the type of gym you run and the services you provide.
For example, if you run a high-end gym, you'll want to focus on wealthy individuals looking for luxury fitness experiences. However, if you run a small boutique gym, you should focus on people looking for personalized attention and specialized programs. Here are ways to identify your audience.
Defining your Ideal Customer
When defining your ideal customer, consider the traits that make up your core customer. These could include age, gender, interests, location, income level, etc. Also, knowing your ideal customer can help you understand their needs and desires, making it easier to tailor your marketing strategies accordingly.
For instance, suppose your gym caters to busy professionals aged 25-35 living in the city. You may want to focus your lead generation efforts on creating content about the convenience of exercising near work and finding time for exercise amidst their busy lives. Once you have an idea of your ideal customer, it can help you narrow down your target clients and create content that will resonate with them. 
Understanding their Needs and Pain Points
Another way to identify your ideal customer is to understand what drives or motivates them. You can begin by asking these questions, "Do they value convenience? Personalized attention?" For instance, some clients sign up at gyms to build muscle mass, while others specifically want to lose weight.
You should also ask if they desire inexpensive gym memberships. While some don't mind paying hefty sums at gyms to stay fit, others require cheap gym services. Understanding what drives their decision-making can help you craft lead-generation strategies that tap into these motivations.
Researching Where they Spend their Time Online
As a gym business owner seeking to scale your gym business and boost sales, you should know where your audience spends their time. Do they hang out on social media? If so, which platforms?
Do they read blogs? Are they likely to respond to email marketing? Knowing where to reach your target customers will help you create more effective campaigns with better results.
Creating a Lead Magnet
Lead magnets are essential for any business looking to increase lead generation and build a loyal customer base. They provide value to your potential customers and encourage them to subscribe to your email list or take other desired actions. Businesses can capture leads and nurture them by providing valuable content in exchange for a visitor's contact information. Here are some things about lead magnets and how to create them.
Definition of a Lead Magnet
Lead magnets are content, usually digital, that companies offer in exchange for customer contact information. They can come in many forms, from ebooks to webinars or other gated content forms. Gated content often requires the user to enter their contact information to access the content, which is a great way to capture leads and build a marketing list.
Typically, fitness businesses use a lead magnet to incentivize people to give up their contact information, allowing them to market their product or service. A lead magnet also helps capture leads who may not yet be ready to purchase but could be interested in the company's product or services in the future.
Examples of Lead Magnets for Gyms
When creating lead magnets, you have several options to choose from as a gym owner or personal trainer. Some of the most popular lead magnets in the fitness industry are free session pass, ebooks, and video tutorials.
Free session passes: A free session pass could be for one day, one week, or even one month, depending on what works best for your business. This type of lead magnet can be very effective in attracting leads to try out your services before making a long-term commitment.
Ebooks: Another type of lead-generating technique that gym owners and personal trainers can use are ebooks. The focus can be on health and nutrition, fitness tips, and exercise programs. Also, you can easily Ebooks with customers and prospects, providing them with valuable information.
Checklists and cheat sheets: Creating checklists, cheat sheets, and templates are other effective ways to capture leads. These are great for providing users with helpful tips and tricks they can put into practice right away.
For example, you may create a checklist of exercises to help customers get stronger and more toned. Or, if you're a personal trainer, you may provide a template meal plan to help clients achieve their goals.
Video content: Video tutorials and webinars are also great leads for your gym. With video tutorials, gym owners and personal trainers can show customers how to do specific exercises or stretches correctly. And with webinars, they can provide detailed information on reaching specific goals or general health advice.
Designing a Lead Magnet that Resonates with Your Target Market
Lead magnets can be an excellent tool for businesses to grow their customer base and increase conversions, and they are easy to create. Here are steps to help you create compelling leads for your fitness business.
Identify and focus on your ideal customers – Determine who you are trying to reach and what their needs and interests are
Choose a desirable lead magnet – Decide on a lead generation strategy that will appeal to your target audiences, such as a free eBook, webinar, or discount code
Promote your lead magnet – Use email campaigns, Facebook and Instagram ads, google ads and other channels to spread the word.
Create a landing page – Create a dedicated page with an opt-in form to capture leads
Automate the process – Set up automation to nurture leads by cresting personalized email content, offering discounts and free resources after they've opted in.
Analyze performance – Track the performance of your marketing efforts to assess its effectiveness and adjust accordingly
Optimizing Your Website for Lead Generation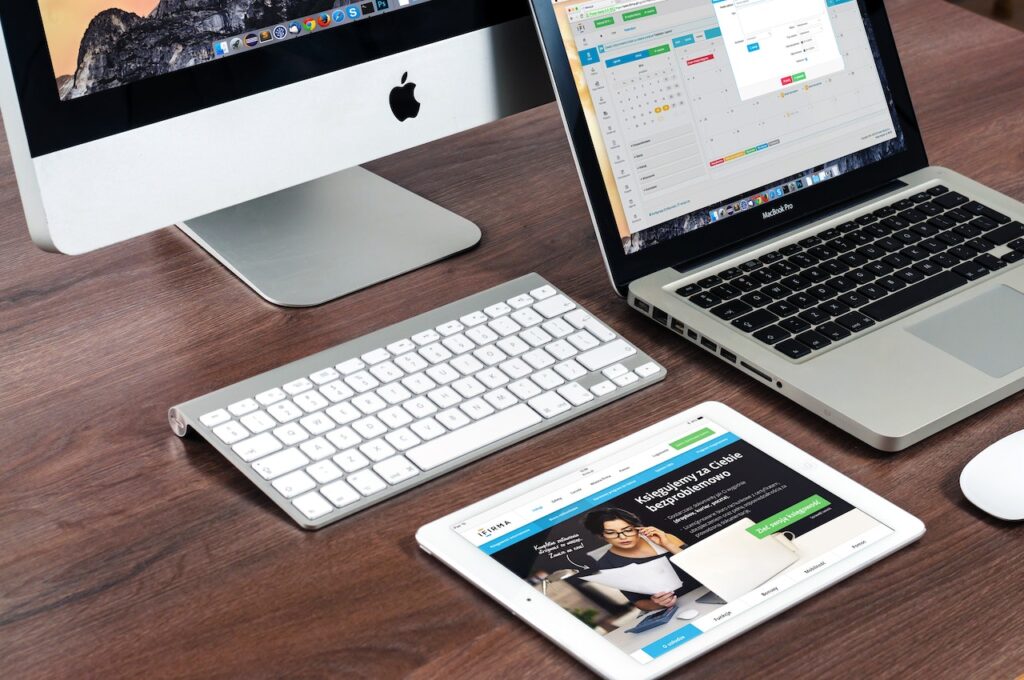 Optimizing your gym's website for lead generation is vital in getting new customers through the door. A website that is easy to navigate, visually appealing, and packed with relevant information about your gym can be a great way to increase leads.
Your website should be optimized for SEO, use effective calls to action, and focus on building trust. Additionally, it should feature engaging content such as blog posts, videos, and photos of your gym to help drive leads and improve customer engagement. Here are some ways to optimize your website for lead generation.
Creating Landing Pages
Creating a website landing page is crucial to creating gym membership leads. Landing pages provide an easy way for visitors to find specific information about your gym and sign up for email lists and contact forms.
When creating a landing page, it's essential to have an eye-catching headline and visuals and an organized layout. Likewise, your it should have targeted messaging that communicates what the page is about. Optimizing your landing page for search engines is also essential to ensure new clients can find your page.
Adding Lead Capture Forms
Another important way to capture leads is strategically placing lead capture forms on your website. These forms allow businesses to create more tailored marketing messages that have the potential to convert leads into customers. Also, lead capture forms should include fields such as name, email address, phone number, and other pertinent information.
When creating lead capture forms, keeping them simple and easy to fill out is essential. Having too many questions or fields could deter users from completing the form.
Implementing Call-To-Actions (CTAs)
Call to action is essential for encouraging visitors to take action and become leads. Not only do they prompt visitors to take a desired action, such as signing up for a membership or booking a personal training session, but they also help visitors to learn more about your gym and its services. By providing clear and concise CTA's, you can ensure that visitors take action and provide their contact information.
Utilizing Social Media for Lead Generation
With over 4.8 billion social media users worldwide, fitness businesses are leveraging social media marketing to generate leads. With platforms like Facebook, Instagram, Twitter, and YouTube, small businesses can quickly reach new customers and engage with them meaningfully. Also, from sharing fitness content to paid advertising, social media can effectively build relationships with new and existing clients and increase brand awareness.
Additionally, since social networks allow businesses to track user activity and engagement, fitness studios can use this data to refine their lead generation strategies and target more likely prospects. Below are ways to utilize social media for lead generation and content marketing.
Choosing the Right Social Media Platforms
We can't overstate the importance of choosing the right social media platform to generate leads for your gym. It's crucial to ensure that you are targeting the right audience and your content is engaging enough to capture the attention of potential customers. Also, different platforms offer different advantages and disadvantages; hence, it's important to understand which platform would work best for your business needs.
Creating Engaging Content
Content is king, and no statement has more truth to it. Creating content that resonates with your audience can create an ongoing connection with them and increase the chances of turning them into loyal customers. Engaging content helps to build relationships with new clients and establish yourself as a credible authority in the industry. Similarly, posting interesting and valuable content will help capture your audience's attention and encourage them to engage with your posts.
Running Social Media Ads
Ads are a great way to increase visibility, build awareness, and attract leads. One good thing about ads is that you can tailor them to target your ideal customer and lead them to landing pages where they can sign up for more information.
Also, ads provide an easy way to keep your gym top-of-mind with existing customers. With well-crafted ad campaigns, you can get more leads and increase conversions.
Running Email Marketing Campaigns
Through emails, gyms can reach their ideal audience with personalized and engaging messages about their services, membership benefits, and more. Email marketing allows gyms to create strong relationships with a potential client and drive conversions.
One benefit of running email marketing campaigns is that emails are relatively inexpensive and highly trackable. This way, gyms can easily measure the success of their campaigns and adjust their strategy.
Building an Email List
With an optimized website and a compelling CTA, building an email list for your gym is easy. You can use pop-up forms on the gym website and add links to all emails sent to capture more email subscribers. Likewise, you can build your list by offering discounts or special offers for signing up for your gym's newsletters.
Creating Engaging Email Content
Another way to build your email list is by offering free resources like exercise and nutrition tips to incentivize people to sign up. With the right content, you can capture your audience's attention and encourage them to take action, such as signing up for classes or other gym services.
Automating Email Campaigns
Automating email campaigns is an excellent way for gyms to generate leads without investing too much time. By automating emails, gyms can reach their ideal audience regularly without sending out every email manually. Automated emails also allow gyms to customize content based on each customer's preferences, enabling them to deliver personalized content effectively.
Utilizing Referral Marketing
Referral marketing helps leverage word-of-mouth's power to create more gym membership leads. By incentivizing current members to refer their friends and family, you can quickly generate more leads for your business. Also, not only are referral programs highly effective, but it's also inexpensive.
Encouraging Current Members to Refer their Friends and Family
Having your gym staff and members actively promote your gym by referring their family and friends is an effective way to generate leads. You can ask them to spread the word about your gym and share it on their social networks.
Offering Incentives for Referrals
Offering incentives, such as discounts or free memberships, can further motivate members to refer their friends and family to your gym. When choosing referral incentives, it's crucial to consider what would most benefit your customers. For example, if your gym offers a variety of classes and services, offering discounts on specific classes or services may be more enticing than offering a cash reward.
No matter what incentives you offer, the key is to ensure they are worthwhile. People will only be motivated to refer their contacts if they feel they are getting something valuable.
To Wrap It Up
The modern fitness landscape has changed significantly in the last decade, and one of the most important aspects of running a successful gym is effective lead generation. Learning how to generate new leads can be challenging but essential for long-term success. Thankfully, this article discussed how to get started on generating leads.
Here, we explored how to optimize your website for lead generation, the importance of identifying your ideal target audience, and creating other marketing techniques in generating leads. In addition, we discussed the role of social media in lead generation and how to run a successful email campaign.
Leads help you to reach potential customers, letting them know about your gym's services. It helps drive business, foster customer relationships, and build a positive brand reputation. Effective leads can be that distinguishing factor between you and your competitors.