In this day and age, more people are aware of the benefits and visual appeal of fitness, so it is no surprise that they turn to people who know all about being fit – personal trainers like you. You help them set realistic goals and keep motivation levels high for someone who's just starting out. But does that still apply if you're not ripped?
Now, if you're a personal trainer yourself or want to pursue it as a career but aren't as jacked, it's easy to think you don't have a shot. When you don't look like the ripped personal trainers on the brochures, it's easy to feel intimidated.
But fear not; there are many ways to build a successful personal training career, even if you're not in crazy shape. Many successful PTs will tell you that you don't have to look like a Greek god to help people achieve their fitness goals.
Before we get into how to build a successful career without an insane physique, let's talk more about why these ridiculous standards exist.
Does being shredded as a personal trainer really matter?
No, you don't need to be in insane shape as a personal trainer. In fact, the healthiest PTs have a decent amount of body fat because body fat is actually good for you. Additionally, most of your serious clients won't expect you to look like a manikin; they just want to know that you can instruct them.
This doesn't mean you don't need to be in shape. It just means you don't need to look like a competition-ready bodybuilder to attract decent clients.
Having a chiseled, herculean physique has its own set of advantages. Due to the stereotype surrounding personal trainers (and fitness industry professionals in general), people are inspired by what they see at face value and will tend to favor PTs with muscular bodies.
A fantastic physique showcases discipline, focus, and determination. Clients who aspire to be as buff as their fitness idols want to be trained by PTs who walk the talk; it's just the way it is. But an attractive body will only get you so far since there are other things to consider as well.
An 8-pack ab is not in your job description
What is the job description of a personal trainer, anyway? Is it to maintain a 6-pack as long as you work in the fitness industry? Obviously not.
A personal trainer is a coach, friend, and motivator packed into one. Your education, PT certification, skills, empathy, and dedication to your job are what will make you a successful PT. Many shredded personal trainers tend to scare off prospective clients who have different body goals and can't relate to someone who is super athletic and not at all relatable.
People will pay to be trained by someone who knows their craft, can put together a tailored fitness program for them, help them get through their lows, and eventually help them reach their goals.
There are some things no one tells you about being a PT, which you eventually learn on the job itself. The need to emotionally connect with your clients and have a passion for assisting them in leading healthy lives is one such example.
Yes, to some degree, your body is your business card, and being fit, not necessarily muscular, does help in attracting more clients. Plus, you'll be able to motivate your clients better if you've been on the same journey they're looking to start. But at the same time, brawn is not a substitute for brains. 
The argument could even be made that spending less time sculpting your physique allows you to pay more attention to other things, like designing killer HIIT routines for your clients or considering a lucrative pivot to something like performance coaching.
Five steps to becoming a successful PT without an insane physique
Have an online portfolio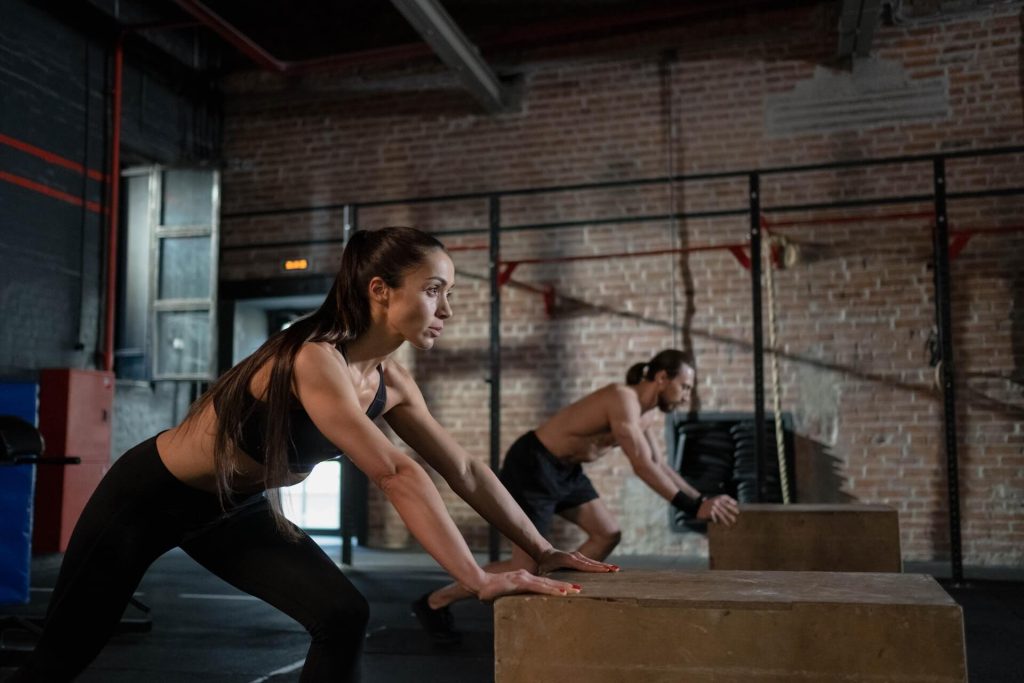 Everybody and everything is basically online right now, which means if your personal training business is not online, you're not going to get very far.
Personal trainers are expected to know in-depth information about nutrition, diets, body anatomy, and workout programs; basically, information that clients will find beneficial.
It's a good idea to mention your credentials, years of experience, and other achievements on your portfolio website, along with displaying your personal training certificate. Your experience shows that you can do the job, and your certificate shows that you're qualified to do the job. Who can refuse that?
Total Coaching has an exceptional guide on how to create a portfolio website as a workout pro.
You could also write and send articles to other fitness websites/magazines and to your clients by mail. Short yet informative articles will capture the attention of potential customers and help you gain clientele in general.
Having a strong online presence on social media will help you reach out to more people. Understand what your target audience wants and which social media platform they're using. Answering frequently asked questions and sharing your experience will go a long way in terms of gaining popularity in the fitness community.
Finally, you should consider posting about your workout plans, sharing videos of you exercising, and even discussing your diet. These will speak volumes about you as a PT and help people see beyond your physique.
Seeking referrals
You won't always get new clients by simply requesting recommendations from your current ones. However, if you offer perks and incentives,  like a complimentary session or access to helpful content that you typically charge for, it might just boost your client base. 
If you're looking to land clients on the gym floor, it may also help to train your new clients with professionalism and dedication. That way, they are even more eager to refer you.
Cultivate a devoted client base
Speaking of client bases, establishing friendly rapport with your clients while helping them achieve their fitness goals. You can do this by enquiring about their health, hobbies, and weekend plans, making them feel like they are more than just clients to you, and helping them will view you in a friendly way.
Do not underestimate the power of word of mouth; devoted clients will recommend you to people they know, and eventually, your schedule could be jam-packed with numerous sessions!
Choose a niche
It's critical to pick a niche to attract the specific group of clients you're looking for. By choosing a niche, you are likely to become an authority on that subject and build a following of devoted customers quickly.
Examples of niches include training for the elderly, the handicapped, those trying to lose weight, and women preparing for pregnancy and postpartum. If you don't fit the bill, avoid choosing bodybuilding as your niche because those clients will seek out workout pros who are shredded.
It's tough to attract clients who are interested in bodybuilding when you don't look the part.
Ask for reviews
Know how you check for the number of stars and positive reviews a product has received before proceeding to buy it? The same goes for people who click on your website or hear about you from your current clients.
That's why it's critical to have as many positive reviews as possible. Ask your clients to write reviews of your services on your website or other forums. Written testimonials are good, but videos are so much better.
Offer a free session
Many are hesitant about paying for a PT and whether it will be worth their time and money. Offering a free session allows you to change their minds, and it allows you to show that you know your stuff, with or without a goddess-level physique.
Highlight your strengths
When you are writing articles on your website or when you post on social media, or even when you chat with your potential clients during free sessions, show them why they should hire you.
Talk about your strengths and your physical achievements: how many clients you've coached, how much weight they've lost, how much stronger they got, and how much more mobility they achieved.
Show them before and after videos (you should be taking these) and walk them through your process for helping them achieve the same results.
The bottom line
To sum it up, a personal trainer needs to look the part. Depending on your specialization, that may mean having a healthy body-fat percentage, having decent stamina, or holding on to 60 pounds of muscle.
But guess what? None of these factors are written in stone. As long as you know your stuff, are dedicated, empathic, and willing to put in the work to help your clients achieve their goals, your work ethic will take you further than any body fat percentage of lean muscle ever could.